Reseller Web Hosting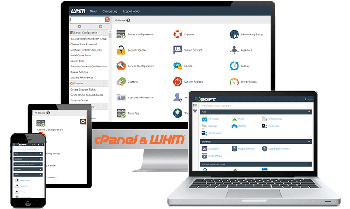 Host multiple websites or become your own hosting reseller today with our best-in-class reseller hosting.
Our reseller hosting program is created for web designers and developers that maintain their customers' websites on a long term basis. We make it easy to include a highly reliable web hosting as part of your service and increase your revenue at the same time.
Once your hosting account is activated, you can go ahead and start setting up your reseller business. You will be making money from your online reselling business by receiving the difference in the amount you pay us and the amount your clients pay. It is completely up to you to decide on the prices and fees for the services you will be offering. Your clients will not find any logo's or reference to our company in their hosting accounts thanks to the white-label marketing tools we provide.
Reseller users are provided with a Reseller Panel (WHM) where they can manage all their resold accounts. The reseller also has access to all created accounts ('resolds').
There is also no upselling of services or products from us that you might not need . The WHM interface is pretty straight forward and to the point and is totally ad free.
Reseller Hosting Package Features

| | |
| --- | --- |
| Disk Space & Traffic: | Included: |
| Disk Space | 100GB |
| Monthly Traffic / Bandwidth | UNMETERED |
| Hosted Domains | UNLIMITED |
| SubDomains | UNLIMITED |
| cPanel Control Panel | |
| cPanel Accounts | UNLIMITED |
| WHM Control Panel | |
| Anonymous Nameservers | |
| | |
| Email Features: | Included: |
| Email Accounts | UNLIMITED |
| Email Forwarders | UNLIMITED |
| Email Autoresponders | UNLIMITED |
| Webmail | |
| SMTP, POP3, IMAP | |
| SpamAssassin | |
| Mailing Lists | UNLIMITED |
| Catch All Facility | |
| SPF | |
| Domain Keys | |
| BoxTrapper | |
| CSV Import (Email & Forwarders) | |
| | |
| Database Features: | Included: |
| MySQL Databases | UNLIMITED |
| PHP MyAdmin | |
| PostgreSQL Databases | UNLIMITED |
| | |
| Server Features: | Included: |
| Apache 2.X | |
| PHP 5.2-5.6 | |
| CGI | |
| Perl | |
| Javascript | |
| SSI | |
| Ruby on Rails | |
| SSH Access | |
| | |
| Billing: | Info: |
| Billing per Month | $29.99 |
| Billing per Year | $350.00 |
| | |
| | |
Services Refunds - Warranty:

We offer a 30 day money back guarantee (if at any time, within 30 days, you feel that our services are not for you, then simply contact us and we will close the account and return your full purchase amount). You may request termination of hosting services by notifying us in writing. Upon written notification, your account will be closed.